Floral Portrait Artist
Teacher Designer
Award-Winner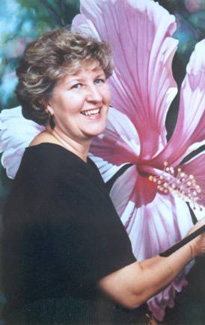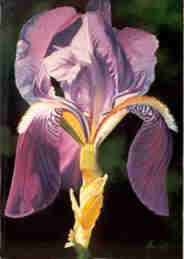 Purple Iris 24x36
Over the past 30 years, Marge
Hall has emphasized the importance of following "your own direction" to her students … Advice she has used in creating a festival of color and texture with her own paintings …
Her portraits represent a kaleidoscopic mixture of colors, shapes, and textures that cause her flowers to leap off the canvas, allowing the viewer to experience her art on both emotional and intellectual levels.
Marge Hall has created a body of
work that is bold and dramatic yet
sensitive and intimate …
Her vibrant colors and luscious textures capture the spiritual elements of nature …
Her attention to detail is displayed in the subtle tonal qualities of each petal she paints.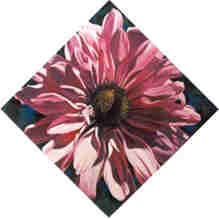 Pink Double Daisy 24x24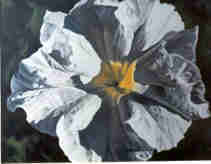 White Petunia II 24x30
This nationally recognized artist has discovered her own color vocabulary based on a pallet that combines elements of strong but almost mystical light with drama and photo-like realism …
When she paints white flowers, she is able to exaggerate the color subtleties as they shift in the shadows and areas of reflected light …
When Marge captures the transparency of Petunias, or the velvet-like softness of Gladiolas, or the feel and texture of the veins and wrinkles of Hollyhocks, she has invited the viewer into her special world.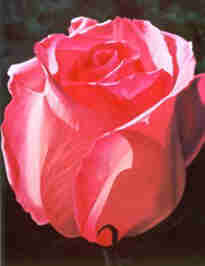 Pink Heart Rose 22x28
In her "Heart Rose" floral portrait,
Marge captures the dramatic beauty of her subject with the explosive use of light and color…

She has created an elusive moment by unifying the coexisting elements of light … shadow ... color ... beauty.
Marge Hall
27W321 Oakwood St
Winfield, Illinois
630-668-5549
On the Internet:
http://MargeHall.com

Email:
margehallart@gmail.com
Copyright © 2002-2023 Marge Hall. All rights reserved.